The Inauguration of our second factory in Dong Nai not only marks an important milestone in company development but also reaffirms the company's commitment to sustainable development of Company, Community, and Environment.
On December 13, 2017, ATAD held the opening ceremony of our second factory – ATAD Dong Nai Steel Structure factory in Long Khanh's Industrial Zone, Dong Nai. Spanning 15 hectares and with a capacity of 8,500 tons per month, this is the largest and most modern steel structure factory in Vietnam. Our factory products are not only provided pre-engineered steel building projects but also heavy steel structure project, high-rise building, infrastructure, complex structures and architectural projects. They are also exported to more than 35 countries and the factory will provide jobs for about 800 local workers and staffs.
ATAD Dong Nai is proud of being the first steel structure factory in Vietnam and Asia achieved LEED Gold from the U.S. Green Building Council (USGBC) – the gold-standard of green building certifications.
"At the same time, by investing in factory operation including efficient energy usage, water efficiency, air quality and working environment, we are proud that ATAD Dong Nai is not just an ideal workplace but also an environment-friendly space." Mr. Huynh Ngoc Dong – Chairman spoke at the ceremony.
The inauguration ceremony was attended by a large number of distinguished guests including local authorities, industrial park management, customers, partners, suppliers and ATAD staff. In the future, ATAD hopes that with the support and companion of all people, we will together create sustainable values for Company, Community, and Environment.
Here are some photos of the ceremony: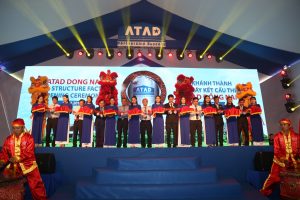 Ribbon cutting ceremony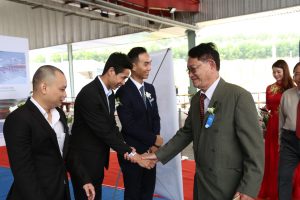 ATAD staffs welcomed guests to ATAD Dong Nai Opening Ceremony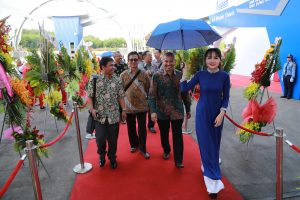 Welcome customers to ATAD Dong Nai opening ceremony
Guest took a factory-tour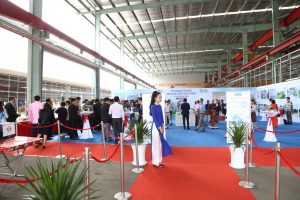 Tea break area of ATAD Dong Nai opening ceremony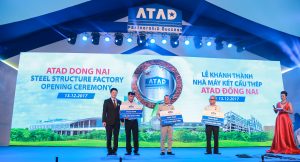 ATAD representatives donated money to 3 charitable foundations in Dong Nai province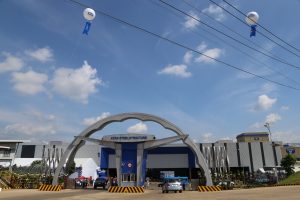 Main gate of ATAD Dong Nai factory in the opening ceremony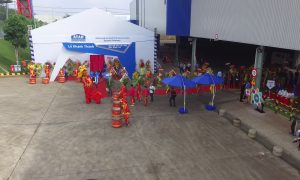 ATAD Dong Nai Opening Ceremony