Part 1: Advanced steel structure technologies have been applied in Vietnam for the first time
Opened 51 years ago, Phu Cat Airport plays an important role in the socio-economic development of Binh Dinh province. Phu Cat Airport Expansion project, funded by the ACV with a total investment capital of VND500 billion (US$23.47 million), will include the construction of a terminal and expansion of the plane parking area to improve capacity and quality of service and ensure safety. After completion, the project is expected to help lure more investment to the province and its central and Tay Nguyen (Central Highlands) regions as well.
For passenger terminal category, steel structure is chosen as the structure of passenger terminal with outstanding advantages: quick erection, high flexibility and eco-friendly solution. This is also the general trend in global airport construction and expansion.
The terminal will have two floors with a design concept based on "Dan Nam Giao" – a shrine where the emperors used to held ceremonies during the spring in central Thua Thien Hue province. The first floor is square-shaped which symbolizes the earth, while the second floor is round-shaped symbolizing the sky. In the center of the terminal, there is an atrium which allows natural light and fresh air to get in the building. With this unique design, the design consultants and ATAD have applied new technologies and methods of steel structure in this project.
For the first time, Concrete-Filled Steel Tube Column System and Steel-Concrete Composite Beams technology have been applied in Vietnam. The framing systems consisting of concrete-filled steel tube (CFT) columns and H-shaped composite beams have more benefits than ordinary reinforced concrete and steel systems.
By applying this method, ATAD and partner contractors got the amazing result in the 1st floor construction.
The concrete-filled steel tube (CFT) consists of a steel tube filled with concrete. Due to the benefit of composite action of the two materials, the CFT columns provide excellent seismic event resistant structural properties such as high strength, high ductility and large energy absorption capacity. In addition, circular hollow sections possess many advantages over open sections, including aesthetic appearance and economy in terms of material costs.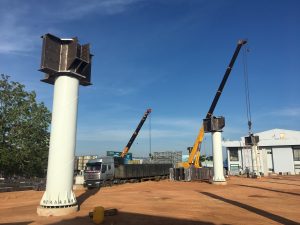 The composite beams partially and fully encased with concrete is so good because it can be expressed in one simple way – concrete is good in compression and steel is good in tension. By joining the two materials together structurally, these strengths can be exploited to result in a highly efficient and lightweight design, short construction time. It can overcome the weakness of reinforced concrete floors and composite floor decks that the composite beams can span up to 18 meters while H-beams are still small, lightweight and slender. The reduced self-weight of composite elements has a knock-on effect by reducing the forces in those elements supporting them, including the foundations.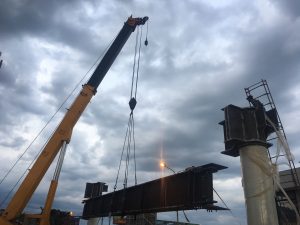 With our construction partners, we have achieved a great record: 14 days to complete the floor with a total area of 8500 m2 and 600 tons of steel that received highly appreciation from investor – ACV. The benefit of this long span floor is column free space and the ease with which the interiors can be changed easily. Furthermore, the composite floor is extremely flexible in future terminal extensions.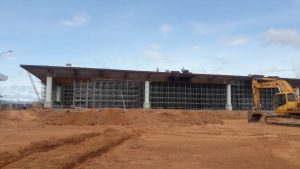 This August, ATAD has completed the 1st floor construction successfully. This success is achieved by applying new technology, ATAD project team's efforts, extensive experience in the steel structure industry and cooperating successfully with other contractors.
Part 2: Phu Cat Airport's unique roof drainage system.