On 29.03.2009, the ATAD unions Congress occurred at the factory in 2 Binh Huu Hamlet, Duc Hoa Thuong Ward, Duc Hoa district, Long An province. Congress listened to a summarizing activities report of ATAD unions in 2008 term and the tasks for the term 2009 to 2011.
With practical activities, Unions of ATAD Steel Structure Corporation has achieved the remarkable results, take care of a material and spiritual life for employees like visiting the illness staffs, giving birthday gifts. Especially, the company organized to play football on Sunday every week, join the movement sports of agencies and local industry organizations, to organize traveling tours every year as the Vung Tau travel trip for the direct workers on 22.03.2009 and the Nha Trang travel trip for indirect staffs from 02.04.2009 to 05.04.2009. Here are the images of ATAD union congress in 2009: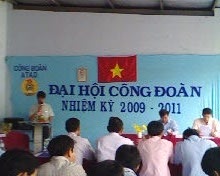 Based on the practical activities situation of staff – labour and the ATAD Unions activity movement, the union executive company has built the program in 2009 with the contents, the methods of practice to a stable life for the staffs and continue to develop available potential in the period which will get many difficulties and challenges.