On March 30, at the National Convention Center in Hanoi, the capital of Vietnam, the Central Committee of the Vietnam Young Entrepreneurs Association held the Vietnam Gold Star Award 2021 to honor and offer Vietnam Gold Star Award 2021 to the best enterprises of Vietnam. ATAD Steel Structure Corporation is honored to be in the TOP 10 Vietnamese Gold Stars 2021 and is also the first steel structure company to receive this reputable TOP 10 award.
The Vietnam Gold Star Award is implemented to honor enterprises with good business indicators, stable and sustainable development, maintaining the number of employees, and caring for employees and society. Top 10 Vietnamese Gold Stars this year include big names such as: FPT, Viettel Post, Sacombank, Vinaconex, Viet Tien, Minh Phu Seafood Corp, ATAD, Thien Long, Hung Thinh, KSB – BIMICO.
According to Mr. Nguyen Le Anh Tuan, General Director of ATAD Steel Structure, the award is a recognition of ATAD's efforts to affirm and maintain its leading position in the field of steel structure in Viet Nam. "With the development strategy in the coming time, ATAD strives to become the leading steel structure company in Southeast Asia and a global company in this field" – Mr. Nguyen Le Anh Tuan shared.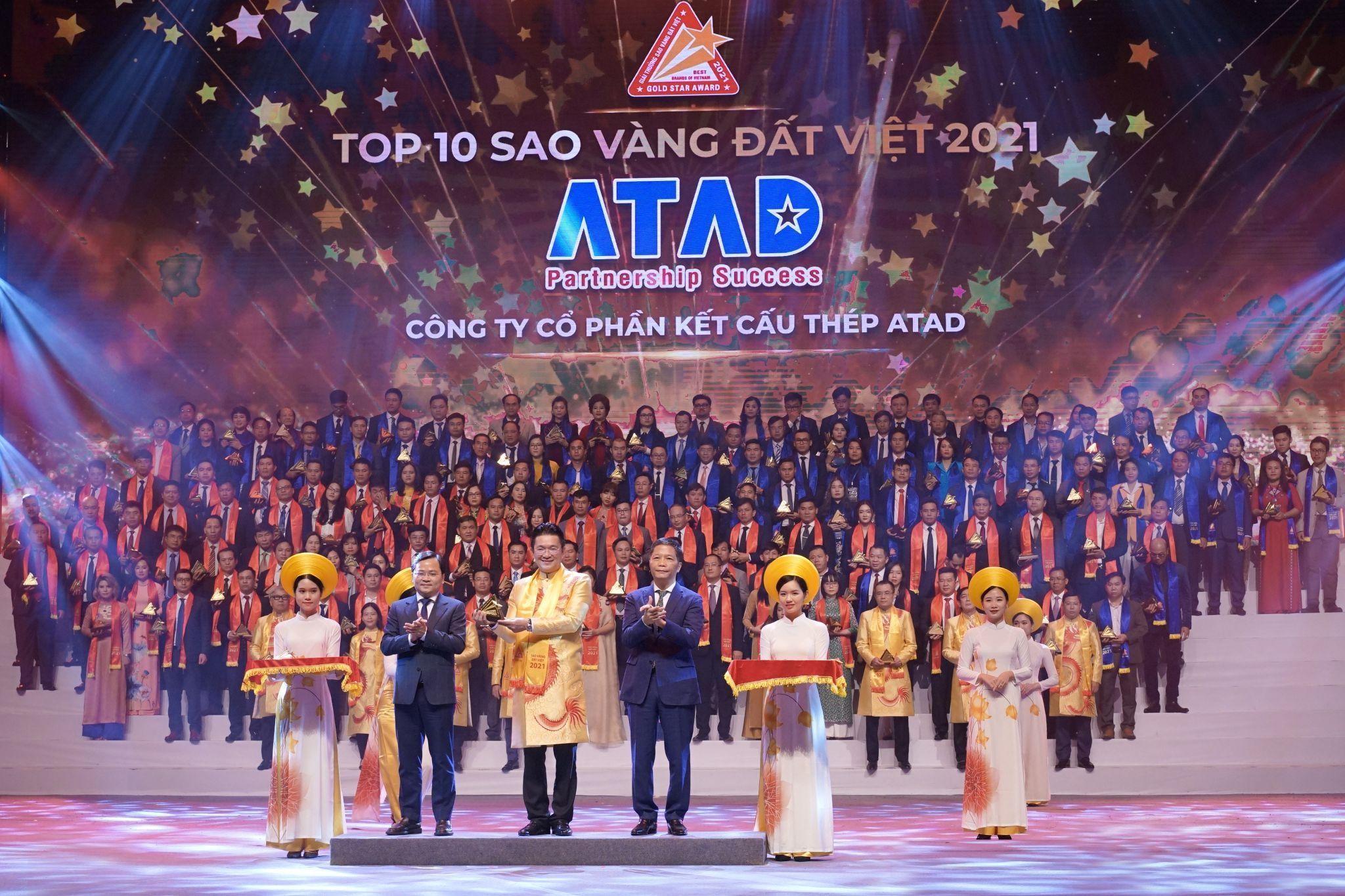 Launched in 2003, Vietnam Gold Star is one of the most prestigious and meaningful awards for enterprises in Vietnam. The award voting process is conducted in three rounds: Pre-qualification, actual appraisal at the enterprise and final selection. After the preliminary round, 220 enterprises were selected to enter the appraisal stage. More than 40 appraisal teams consist of leaders of reputable enterprises, experts in the fields of industry, goods, accounting, KPMG audit and representatives of press and television agencies…. went to actual appraisal of enterprises through the pre-qualification round to verify the reality of business activities of enterprises. Based on the actual appraisal results, the National Selection Council for the Vietnam Gold Star Award 2021 has selected the best enterprises to award with the titles of top 10, top 100, top 200.