ATAD Steel Structure Corporation recently entered into a Memorandum of Understanding (MOU) with Advantis Engineering, a subsidiary of Hayleys Advantis Limited, Hayleys Group – Sri Lanka's number one listed company. This latest partnership is in keeping with the company's ongoing efforts to bring sustainable, cost-effective and rapid construction solutions to Sri Lanka.
As the latest trend in building construction, PEBs are increasingly confirmed their outstanding advantages in industrial and commercial projects such as factory, warehouse, cold storage, showroom, office, supermarket, school, stadium… As a tailor-made steel building solution, this solution perfectly meets the customer's expectations for quality, schedule and safety requirements. An efficiently designed pre-engineered building can cost less than a conventional steel building by up to 25% and can reduce the scheduled construction time by 30-50% with fast delivery and quick site assembly. The fabrication process is controlled strictly from factory to construction site. Pre-engineered steel buildings are flexible in any requirement of design, easy to expand in the future and also economically with low transportation cost. Low weight flexible frames also offer higher resistance to earthquakes, making it a safer option.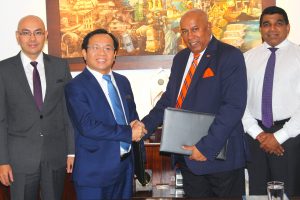 "We are proud to be partnering with Advantis Engineering to bring our innovative and sustainable building solutions to Sri Lanka. At ATAD we are committed to bringing these new and efficient construction methods to the forefront of the construction industry and we believe Advantis Engineering shares our vision. Together we are confident in our ability to bring the next generation of construction solutions to this beautiful island," said Huynh Ngoc Dong, Chairman, ATAD Steel Structure Corporation.
Advantis Engineering, a pioneer in converting marine containers to sustainable, usable workspaces under its brand Convertainers, has long identified the need for rapid construction solutions to aid the country's economic growth and development. As existing businesses expand and new ones enter the market the gap between available space and demand will only continue to grow and it will be years before developers, relying on traditional methods, are able to bridge this gap.
Commenting on this partnership, Kamal Wimalaratne, General Manager, Advantis Engineering, said, "Providing a solution for the increasing scarcity of space in urban areas is crucial to the continued economic growth of our nation. With traditional construction being cumbersome and slow, especially for businesses that need large spaces constructed for their operations, it was clear that we needed an innovative solution to meet today's fast growing needs. Hence we are proud to be partnering with ATAD Steel Structure Corporation, a leader in the construction industry, which creates easily deployable space solutions that help businesses get up and running much faster, resulting in a quicker return on investment.
Advantis Engineering, a fully owned subsidiary of Hayleys Advantis Limited, constantly strives to provide innovative space solutions for a wide variety of industries. Being an innovator in the container conversions space in Sri Lanka, the company operates with the latest technology applications and has expanded its service offering over the years, ensuring that the best of mobile accommodation solutions are available right here in Sri Lanka. It is also the only company in Sri Lanka that is operating with a fully-fledged, sheltered manufacturing plant for container conversions. Hayleys Advantis is the transportation and logistics arm of Hayleys PLC, a diversified blue-chip multinational conglomerate, recognized as the number 1 listed company in Sri Lanka.
ATAD specializes in providing complete solutions including consulting, design, fabrication and erection of high-quality pre-engineered steel building and steel structure products. Since its establishment in 2004, ATAD has implemented more than 3000 steel buildings across 35 countries around the world. ATAD is the proud owner of the largest and the first LEED Gold steel structure factory in Asia, certified by The US Green Building Council as a factory that can produce 144,000 MT of steel structures per year. The LEED Gold factory also affirms ATAD's strategy to contribute to a more sustainable world by building environmentally-friendly green buildings with deep knowledge and experience in green construction.