According to the results of a large-scale survey with more than 300 companies in the Pre-engineered & Steel Structure industry throughout Vietnam, ATAD holds the leading position in the ranking. This result continues to affirm ATAD's outstanding efforts to affirms its leading position in Vietnam and realize its vision to become a leading steel structure company in Southeast Asia by 2025.
Currently, the Vietnamese and global economy is heavily affected by the COVID-19 pandemic. In this difficult situation, pre-engineered steel buildings and steel structure companies took advantage of the opportunity to restructure and update business strategies. In order to continue to develop and grow, it is required that companies in the industry have professional, stable financial capacity.
In the Top pre-engineered steel and structural steel companies in Vietnam, the criteria given for ranking include: (1) Finance (revenue, profit, total assets), (2) Human resources, (3) Technology and management, (4) Experience, (5) Branding, (6) Corporate Culture. Based on the above 6 criteria, Houselink has conducted a large-scale survey as more than 300 companies, focuses on enterprises in the Pre-engineered Steel Buildings & Steel Structures industry throughout Vietnam. According to the survey results, ATAD Steel Structure Corporation held the leading position in 3 consecutive years 2018-2019-2020.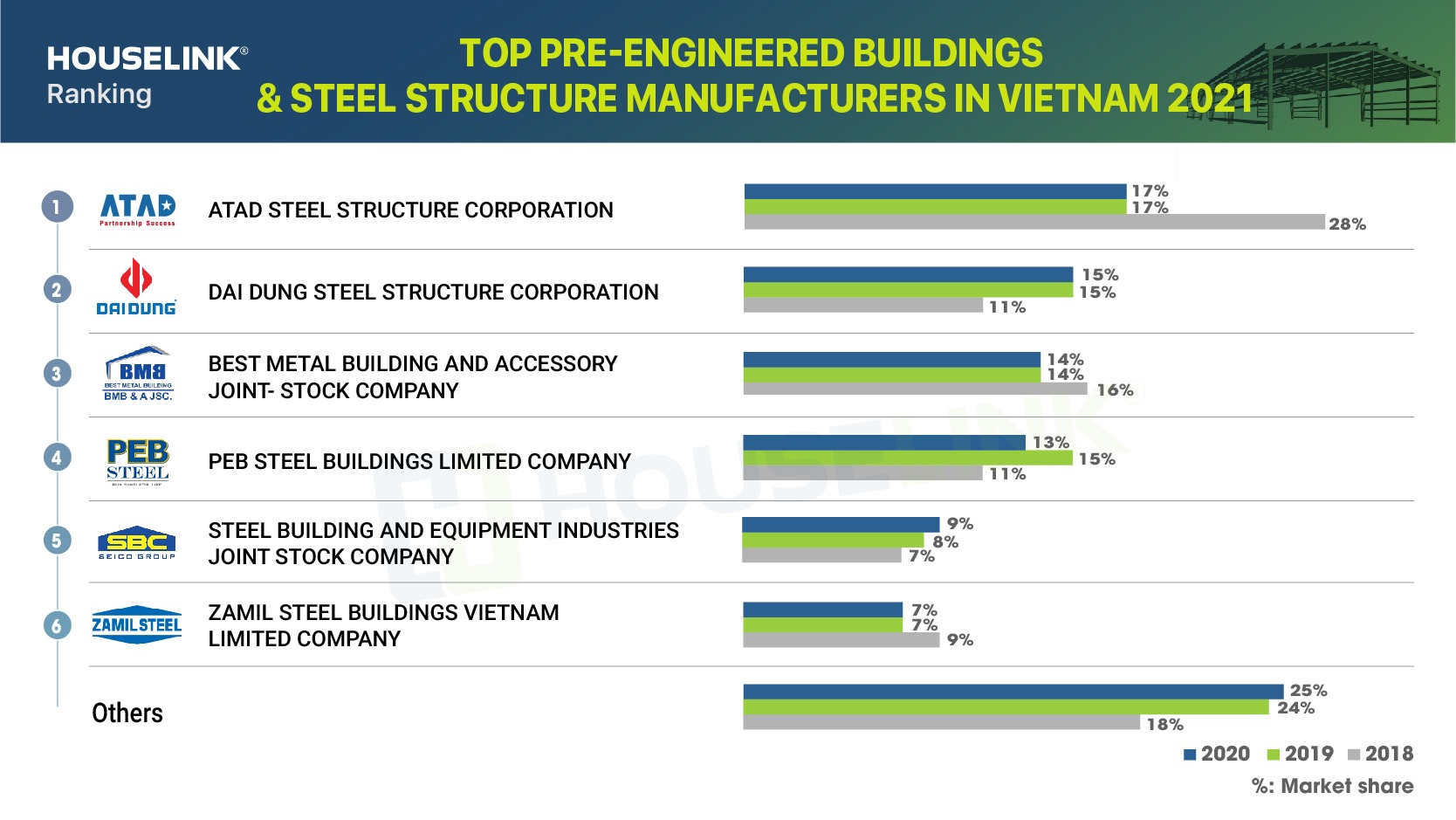 Detailed report Top pre-engineered steel and steel structure enterprises in Vietnam 2021 released by HOUSELINK at LINK
HOUSELINK is the leading construction information channel through an online platform and information integration solution to help Investors search, compare and rest assured to choose the right Contractor for the project or item to be built and repair according to their desired criteria, and based on the evaluations and comments of previous customers, helping to reduce the time and cost of project implementation.

At the same time, HOUSELINK also helps Contractors, Suppliers have more opportunities to access construction projects according to their strengths and areas of expertise. The database system of Contractors and Product Suppliers is built based on CSI international standards.
Visit HOUSELINK website at https://vietnamconstruction.vn/