ATAD DONG NAI STEEL STRUCTURE OFFICE
Location
Lot F, Long Khanh Industrial Zone, Binh Loc Commune, Dong Nai
province, Vietnam
Owner
ATAD STEEL STRUCTURE CORPORATION
Principle Use
Office
Gross Square Meter
6,962.8 sq.m
Rating System
LEED-NC v2009
ATAD DONG NAI OFFICE IN A BRIEF
Located in the heart of ATAD factory square in Lot F, Long Khanh IZ, Dong Nai province, Vietnam, the office is an excellent example how a factory office scope can  be a model of sustainability by achieving LEED Platinum certification in 2017. Throughout each phase, we embraced the challenges of implementing sustainability measures to ensure that sustainability goals set forth at the beginning of the project were carried through to completion.
Open floor plans let in more daylight and encourage communication between employees. Reused and environmentally friendly materials have fewer environmental impacts. Light, air, vegetation, relaxation areas, cleanliness, functionality and regulated temperatures contribute not only to the quality of work and life, but also to creativity and the excellence of the product. The architectural project is also accompanied by investments and programs aimed at improving safety at the workplace and environmental sustainability. In this case study, let us introduce you ATAD office highlight features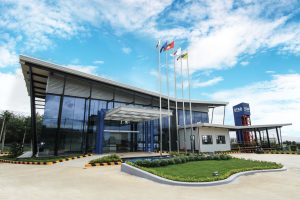 PROJECT HIGHLIGHT
100% of all regular occupied space achieves high daylight luminance level
50.66% of potable water consumption is reduced
100% area of roofing system are installed by highly reflective and low solar reflectance roof
At least 75% construction waste onsite is reduced
All carpets in the building are received Green Label Plus certification
Sustainable sites
Public Transportation and Bicycling: A part of ATAD Office campus is used to build the parking lot which served for some special vehicles and priority in connecting with public transportation. We also offer a variety of options for reducing pollution and land development impacts from automobile use through providing: employee shuttle buses, company car, bicycles storage and changing room…
Bicycles are an efficient, enjoyable, and environmentally sound way to travel around campus, and we encourage the safe and courteous use of bicycles. We provide  bicycles storage and 2 bathrooms, 1 changing room around the Office campus.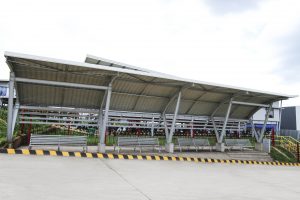 Eco-friendly vehicles:  ATAD provides a parking space near the building for low-emitting and fuel-efficient vehicles.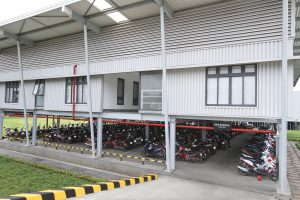 Heat island effect:  ATAD wanted to reduce cooling costs and the heat island effect by installing a highly reflective and low solar reflectance roof.  So we chose COLORBOND steel panel from the famous Australian producer – BlueScope.
100% area of parking lot roof & Office building roof are installed by this metal roofing panel in Off white and Gull Grey color. Featured by Thermatech® solar reflectance technology, the panels have high SRI value of 84 (Off white) and 69 (Gull Grey). Thermatech® technology is designed to reflect more of the sun's heat on hot days, which can mean less dependence on air-conditioning, plus reduced heat stress for the roof. In moderate to hot climates, it can reduce annual cooling energy consumption by up to 15% as compared to roofing materials of similar color with low solar reflectance.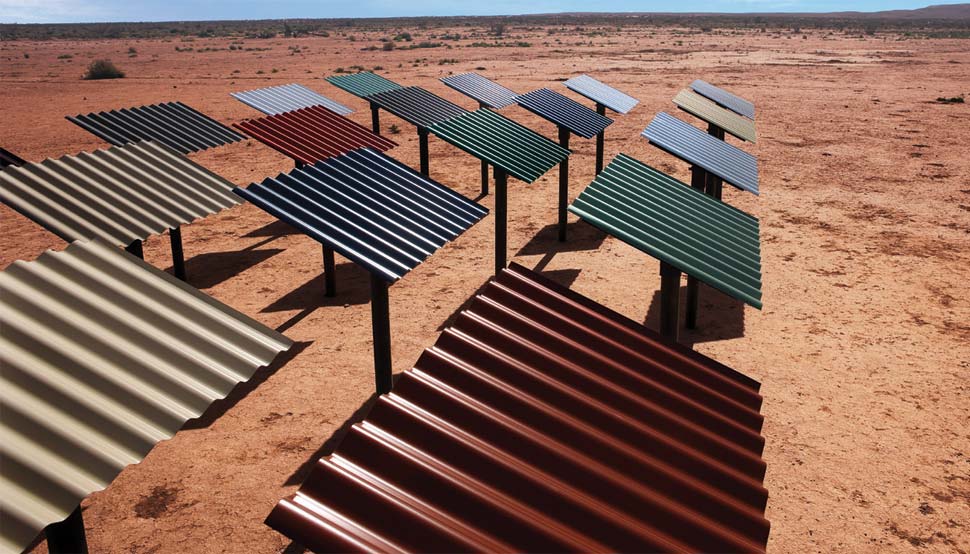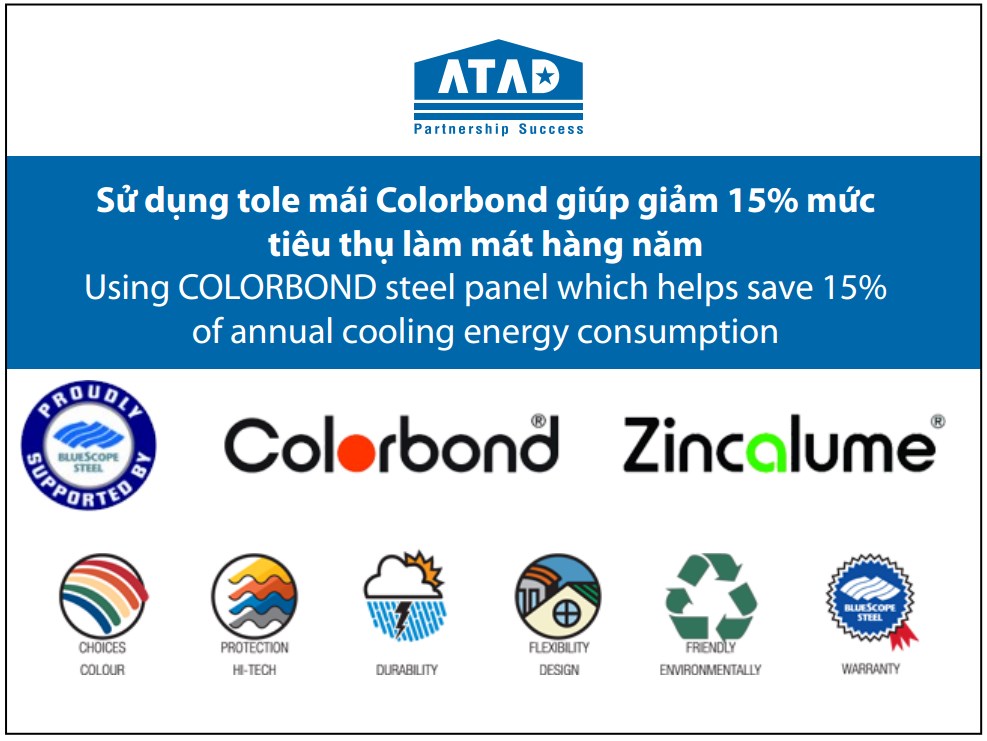 Light Pollution Reduction:  Light pollution has many negative effects. It blocks the view of the night sky, causes human health problems, wastes energy and ultimately reduces visibility. At a green office building, ATAD Office is designed and erection to reduce the light pollution as much as possible.
With outside views, we replace outdoor lights with intelligently designed, low-glare fixtures. We avoid wasting downward light outside of the area that needs to be lit.
We also replace conventional high-energy bulbs with modern luminaires that minimize glare, reduce light trespass, and don't pollute the night sky. We use indoor lighting controls to automatically turn lights on and off from 11pm- 5am.
Water efficiency
In ATAD, we know the importance of using water efficiently that will help ensure reliable water supplies today and for future generations.
We are noted that the first step for increasing water efficiency is to reduce the use of drinkable water for non-consumption purposes. By applying the innovative wastewater technologies, using high-efficiency flush fixtures and non-potable water sources (from harvested rainwater), all water used for flushing toilet is taken from non-potable water.
Items
Flow-rate Specification
(liters per cycle)
Dual-flush toilet
3/ 4.8 lpf
Urinals
0.47 lpf
Semiautomatic lavatory faucet
0.35 lpc & 0.43 lpc
Kitchen faucets
7 l/min
Showerhead
6.6 l/min
To reduce the use of drinking water for landscape irrigation, we used the permeable pavements on sidewalk roads that allow the movement of storm water through the surface. We also applied the harvesting rainwater system by the gutters and downspouts along the edges of our roof. Landscape plants and turf with a total area of 3,174.66 m2 were chosen for their low water consumption needs.
Combined, we will reduce potable water consumption in the building by 50.66% when compared with a conventional building.
Energy and Atmosphere
The project has achieved an energy cost savings of 45.6% by incorporating a number of features, including:
Efficient Indoor Lighting: A combination of low-energy consumed LED bulbs, timer control and good lighting layout design greatly lowers the amount of electricity consumed by the building. ATAD applied the automatic lighting timer control and each floor shall be independently controlled. The system is installed to automatically turn off lights for 30 minutes after the user leaves the room.
Optimize energy consumption: ATAD installed roof panels with a thickness of 75mm and low U-value (U=0.45 W/m2) to reduce solar radiant come into interior building and decrease energy lost. During summer months, this will prevent almost twice the amount of heat from coming through the roof.
An energy measurement system is applied to monitor energy consumption. We installed the VRV systems for HVAC system with a minimum coefficient of performance (COP) of 3.2 that offers high levels of energy efficiency, as well as flexibility. It operates quietly and provides the user full control of the environmental temperatures. It is eco-friendly with no CFC gases in heating, ventilation and air conditioning.
Quality windows: Because ATAD office has so many windows, it was especially important to ensure that high-quality efficient windows were installed. The windows use low-e glass, which lets visible light in but lower the amount of heat from solar radiation that enters the building, reducing cooling demand.
| | |
| --- | --- |
| Glass Specifications | |
| U-value (W/(m2.K)) | 4.0 |
| Shading Coefficient (SC): | 0.64 |
| SHGC | 0.3583 |
Materials and Resources
Recycled material source: In this project, ATAD applied an optimized pre-engineered steel building system that use steel materials. The recycled content value (from steel and other materials) is achieved at least 20% of the total cost of building. This way will contribute to reduce impacts resulting from extraction, processing of virgin materials, and also decrease solid waste volumes to landfill.
Materials with recycled content and manufactured regionally were used whenever possible. In addition, the project has provided appropriately sized dedicated areas for the collection and storage of materials for recycling within 800 kilometers of building location. Thereby supporting the use of indigenous resources and reducing the environmental impacts resulting from manufacturing and transportation.
During the construction stage, ATAD Factory project focus on construction waste management, to reduce at least 75% construction waste onsite. This process helps to divert construction and demolition debris from disposal in landfills and incineration facilities. Redirect recyclable recovered resources back to the manufacturing process and reusable materials to appropriate sites from disposal and whether the materials will be sorted.
ATAD has noticed that the sorting of waste is becoming increasingly important. Our target is   separate as much useful waste as possible and deal with it in the most appropriate manner. Waste is collected at its source in each area and separated. We also installed the Waste Transfer Station at suitable area.
All synthetic wood products are certificated that they does not contain urea-formaldehyde resin. All carpets in the building are received Green Label Plus certification certificated by The World Floor Covering Association.
Indoor Environmental Quality
ATAD Office is mechanically ventilated and that the ventilation system has met the requirements of ASHRAE 62.1-2007. In fact, the breathing zone outdoor air ventilation rates to all occupied spaces has been increased by at least 30% above the minimum rates required by ASHRAE 62.1- 2007. That means ATAD Office always provide pure, fresh air for staff which not ensures everyone health but also helps increase the productivity.
The interior layout was designed so that most occupants have access to daylight and views out of the perimeter windows. 100% of all regular occupied space achieves daylight luminance level between 25-500 fc Luminance when in a clear sky condition. 99.69% of all regularly occupied areas achieve a direct line of sight to the outdoor environment via vision glazing along 100 – 229 cm above the finished floor. Maximizing daylight within these areas reduces the need for electric lighting within the building, which, if integrated into the overall approach to lighting, can result in decreased energy use and contribute to conserving natural resources and a reduction in air pollution. To ensure healthy indoor air quality, ATAD prohibits smoking within 25 feet of the building.  We have put no smoking signs in these areas and set up the smoking area outside the building and factory.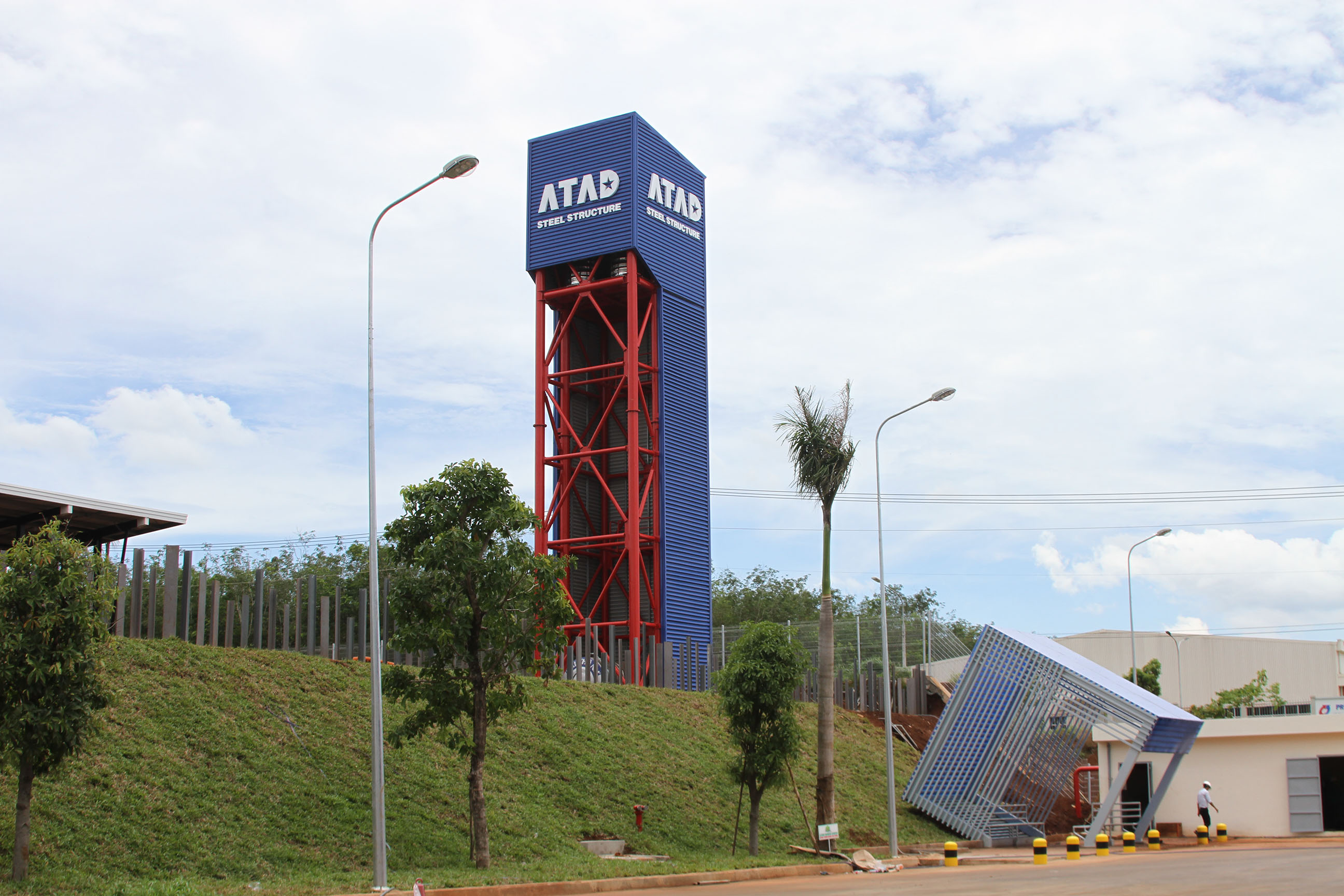 On-site Renewable Energy
In ATAD Office, the solar system has been set up on the roof with 25.76 kWp capacity rated, annual energy generated about 39,083 kWh contributed 31% in total energy using of Office. That helps the total predicted annual energy consumption for the project is 95,894 kWh/year of electricity.